---
I thought I must be the stupidest person in the world. We live on a steep hillside that gets really windy sometimes. A couple of times I forgot to close up our patio umbrella and it would get launched toward our neighbor's house by a big gust. You would think I would've learned to close up the umbrella after those goof-ups, but I have issues with focus and memory, so of course I left it open again. We had a big storm that night and when I looked out the next morning, the table was knocked over, the umbrella bent, and the glass tabletop shattered into a million pieces. I thought I must be the stupidest person in the world… until I mentioned it to others and it seemed that most people had done the exact same thing at one time or another!
The Fall and Winter came and went and we got a beautiful early Spring. I kept thinking I'd get a new patio set, one with 12″ tiles so that if they broke, I could replace them easily. But all of the patio sets i was looking at cost hundreds of dollars. It seemed crazy to spend that much money when we still had most of a patio set. I just needed a new tabletop. Here it is without the glass.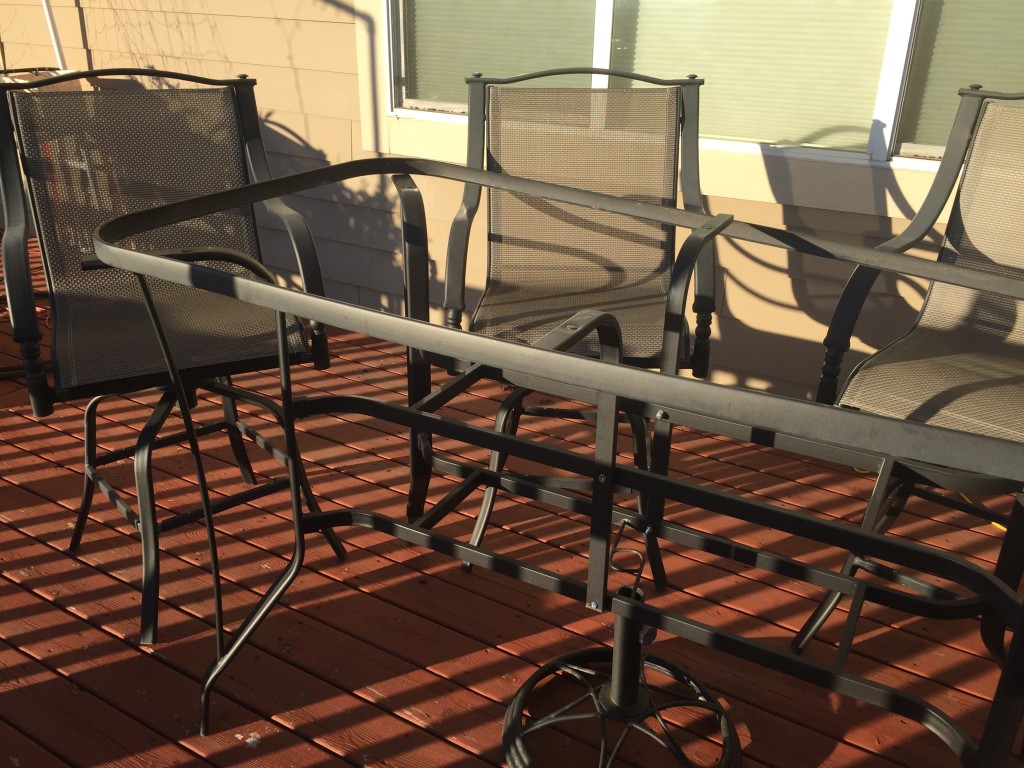 So when Summer came, I asked my design guru, aka Pinterest, for advice and I found this blog post by April on Right at Home for a $20 patio table redo!
She used a fabulous french typography graphic from The Graphics Fairy, whose stuff I love! But then I got the idea that I might want more of a farm feel rather than the french graphic. So first I followed April's steps for creating the tabletop from inexpensive fence boards (with a little construction assistance from my wonderful husband) and then I enlisted the help of my other design guru, Brittany Hampton, who is actually a real person and graphics design artist here in Portland. She specializes in a lot of cool lettering stuff and chalkboard art, so I asked her to use my new tabletop as her canvas and create a graphic to make it look like an old re-purposed farmers' market sign. Here's what she came up with.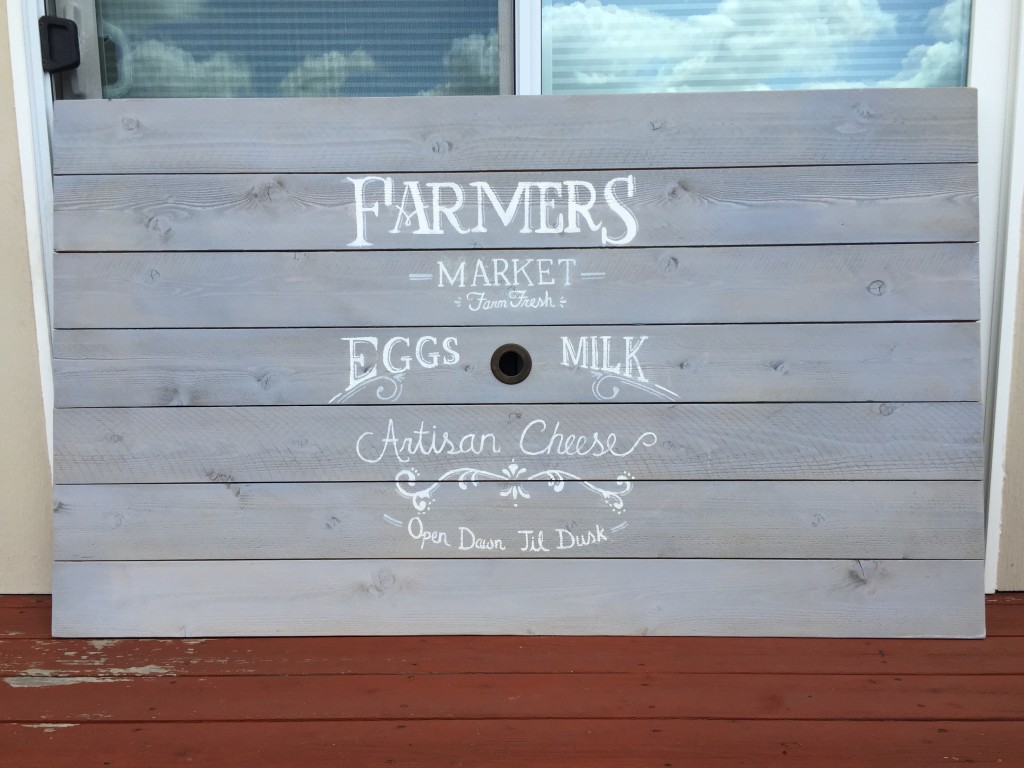 She used chalk paint, so it roughed up really nicely to give it that old, worn feel.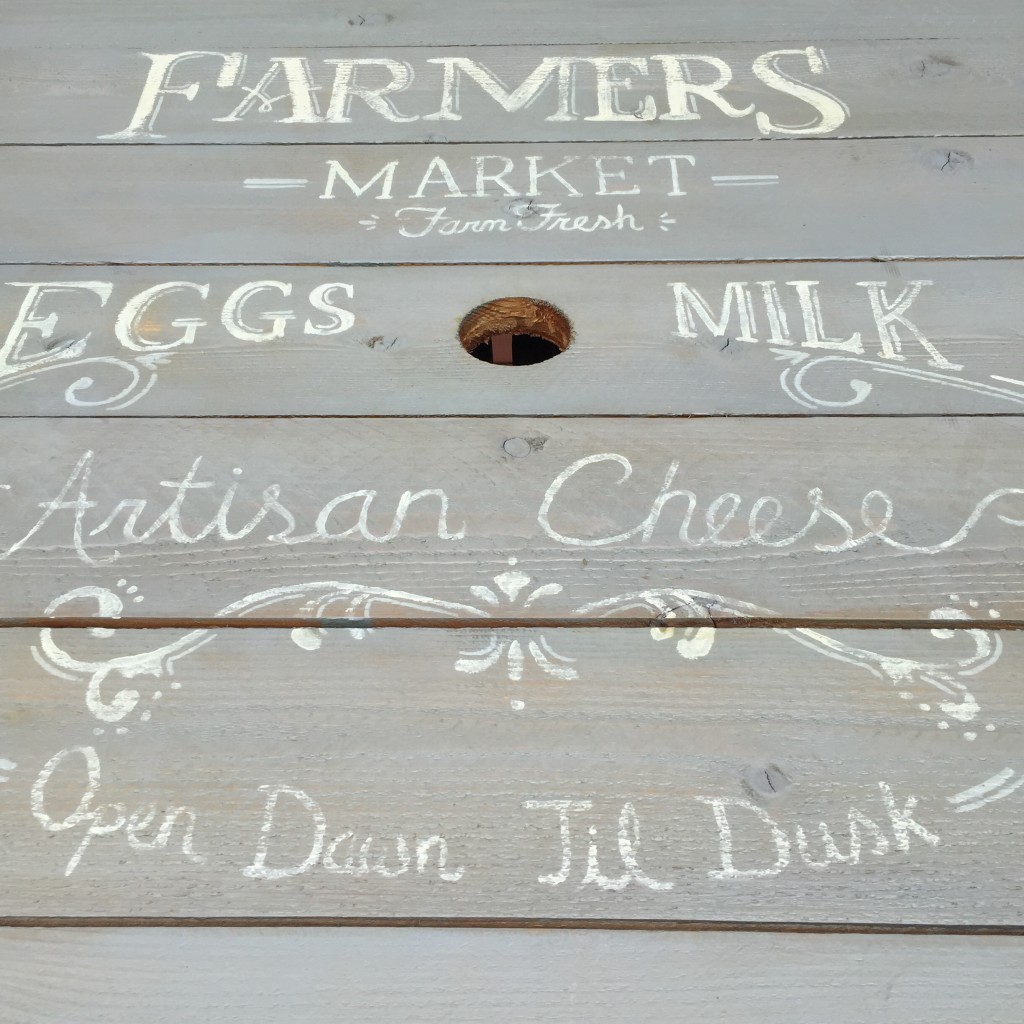 Lastly, I applied a couple coats of polyurethane to protect it from the elements and smooth it out a little. (We had sanded the fence boards, but they were still a little rough.) A lot of people say not to use polyurethane on your painted projects because it yellows your piece, but in this case it actually made the color better. And here's the final outcome! (The picture is missing the little black ring that goes in the umbrella hole, because I misplaced it. Did I mention I have memory issues?)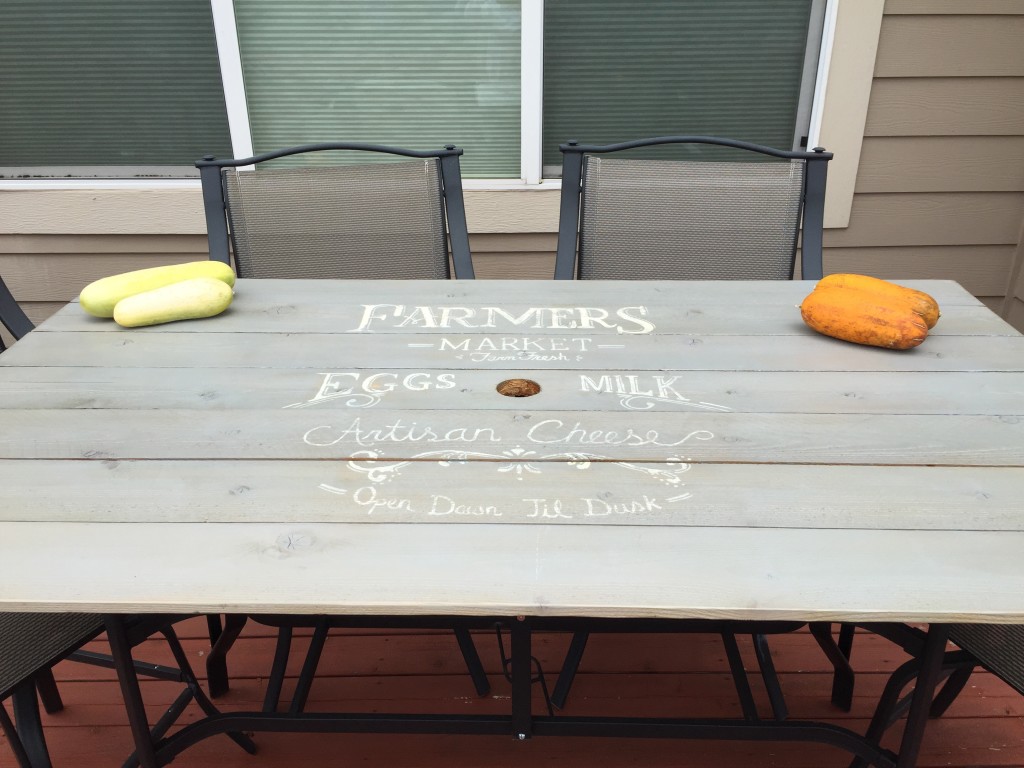 I love it! And I love that we were able to reuse the frame instead of taking it to the dump. I hope you all like it too!