Goodwill shopping is so much fun since I took up this hobby! I went into one of the stores a few miles away to look at furniture and see if they had anything good for a new project. I didn't see anything at first, but as I made a second pass on the way out, I saw this cute little drop leaf side table.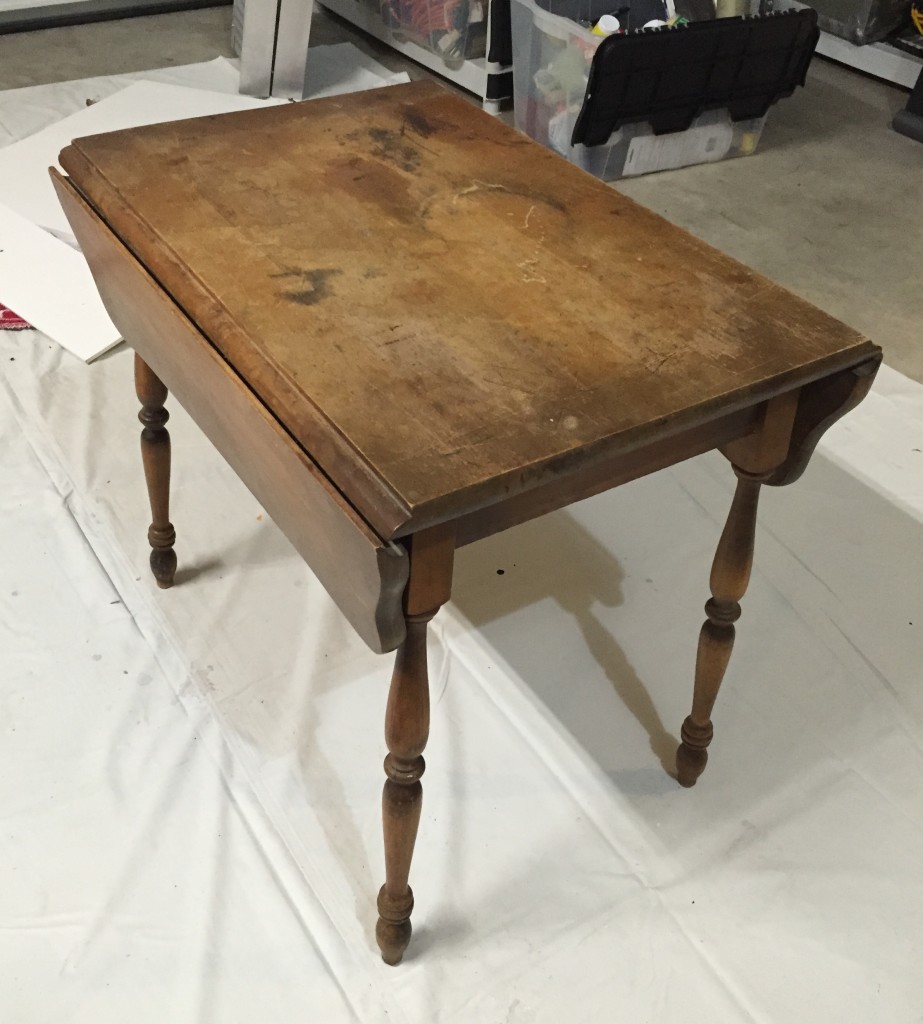 It was in pretty bad shape in terms of the finish, but structurally it was solid. There was no price tag, so I took it up to the front. The lady in front of me said, "Ooh.. How much is that?" I said I didn't know and needed to ask. She told me to go ahead of her because if I didn't want it after I found out the price, she might take it. Another couple at the register looked back and muttered, "Oh, that's cute." When the guy priced it, he said $6.99. "Sold!" I said. "Darn!" said the lady who was now behind me waiting to see how things shook out. "I would have paid twice that!"
I took a trip to the (sort of) local Annie Sloan chalk paint store, Big White Goose. I thought about painting it a duck egg blue, but as I considered it, Lee, who works there, suggested I go neutral if I wanted to sell it, so I went with Old White.
Once I got home, and after the usual ritual of making dinner and getting the kids to bed, I went out to my work space in the garage and got started. I turned it over and painted the legs first.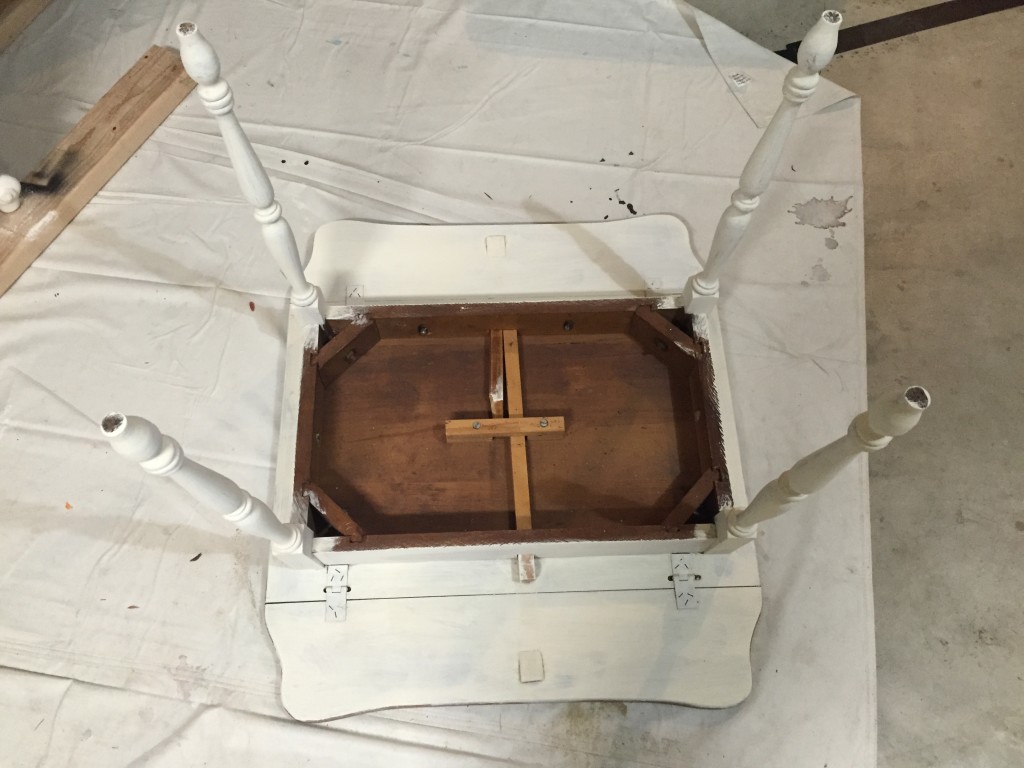 Then I flipped it over to paint the top. It looked cute with the wood top over the white legs, but the wood top was pretty badly stained, so I went on painting. After I put the first thin coat on it, I could see the stains on the wood coming up through the paint.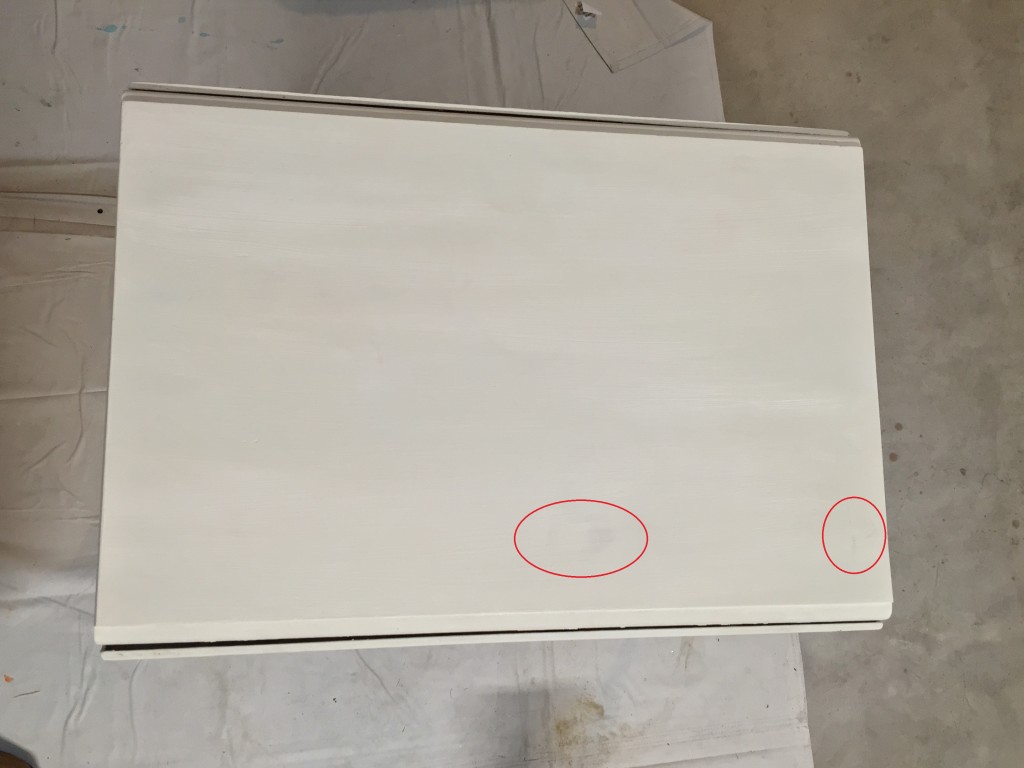 As soon as it dried, I put a second thicker coat on to see if the stains would still pull up through the paint. They did.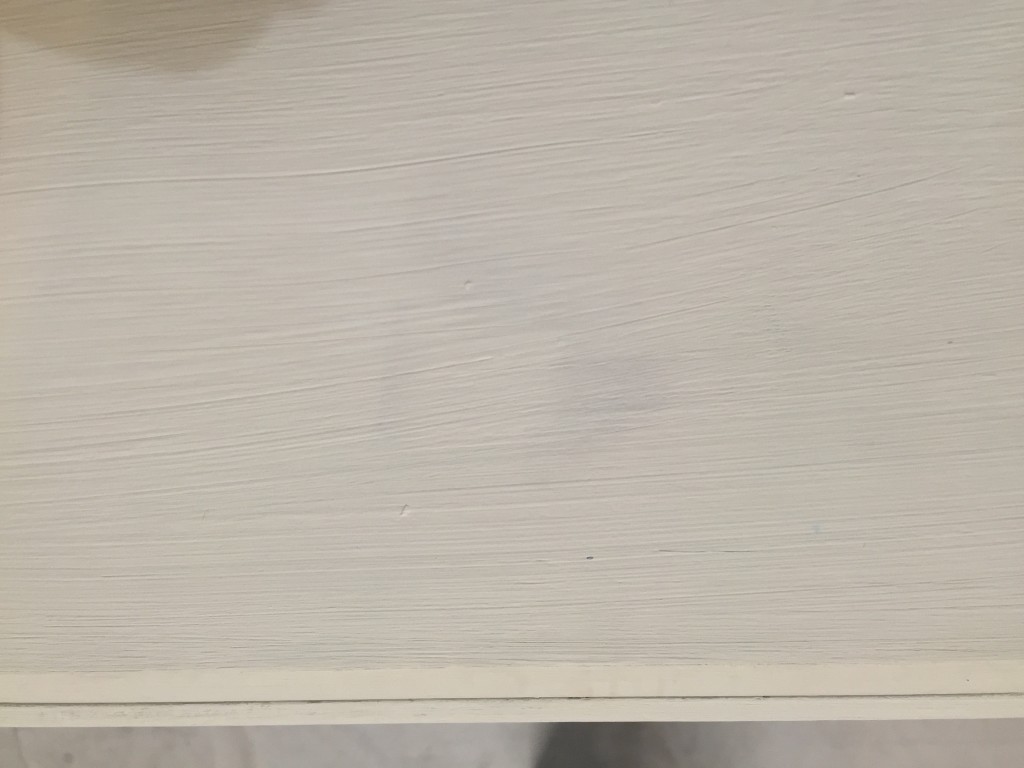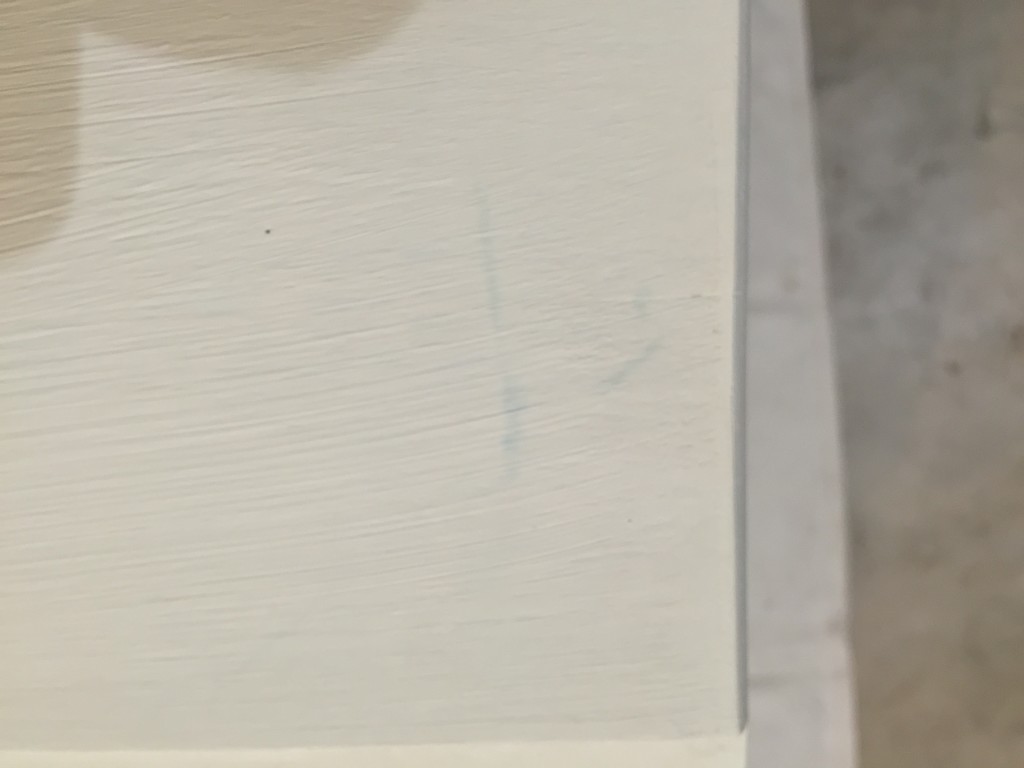 So, remembering how it looked with the wood table top and white legs, I decided to refinish just the top. First I took everything apart. That also allowed me to easily remove the dowels that hold the leaves up, one of which was broken, so that I could replace them with new ones.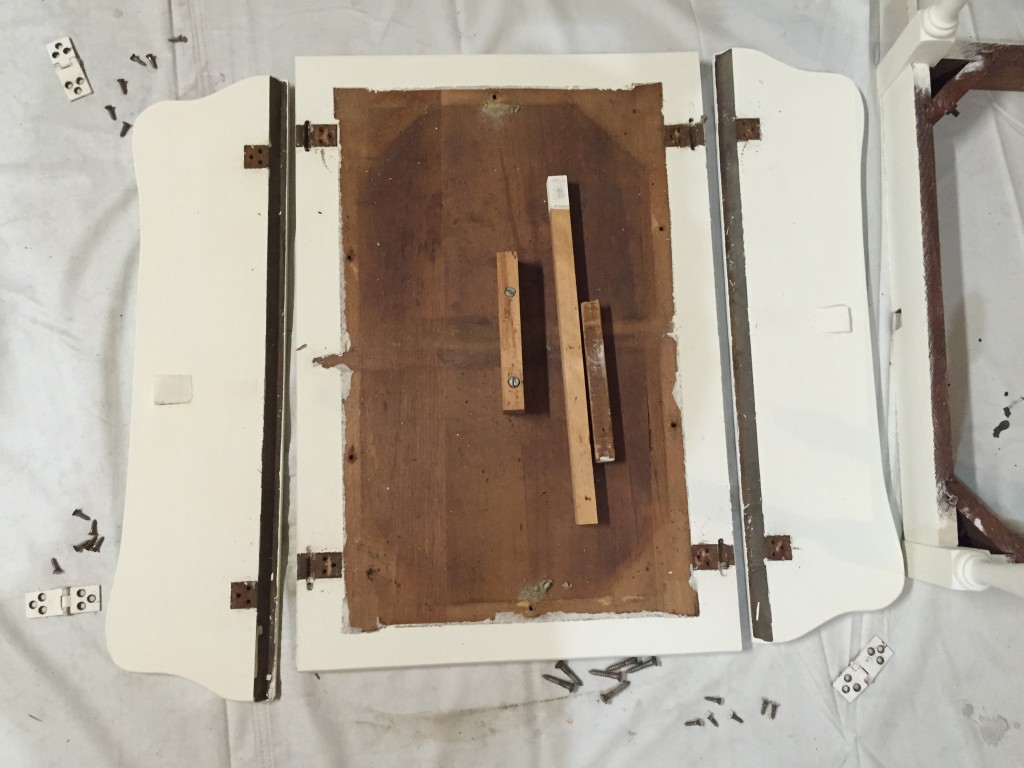 Then I sanded it down with a power sander. I sanded off the paint and the finish underneath.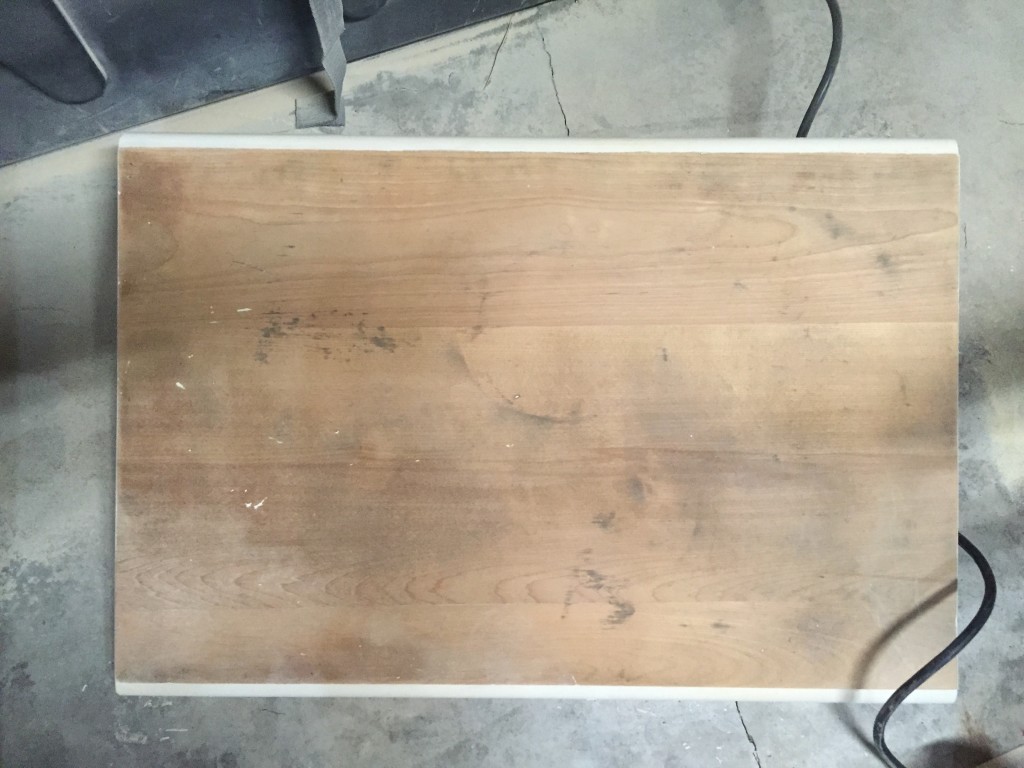 But I had to sand it down quite a bit more to get through the dark stains down to the pristine wood.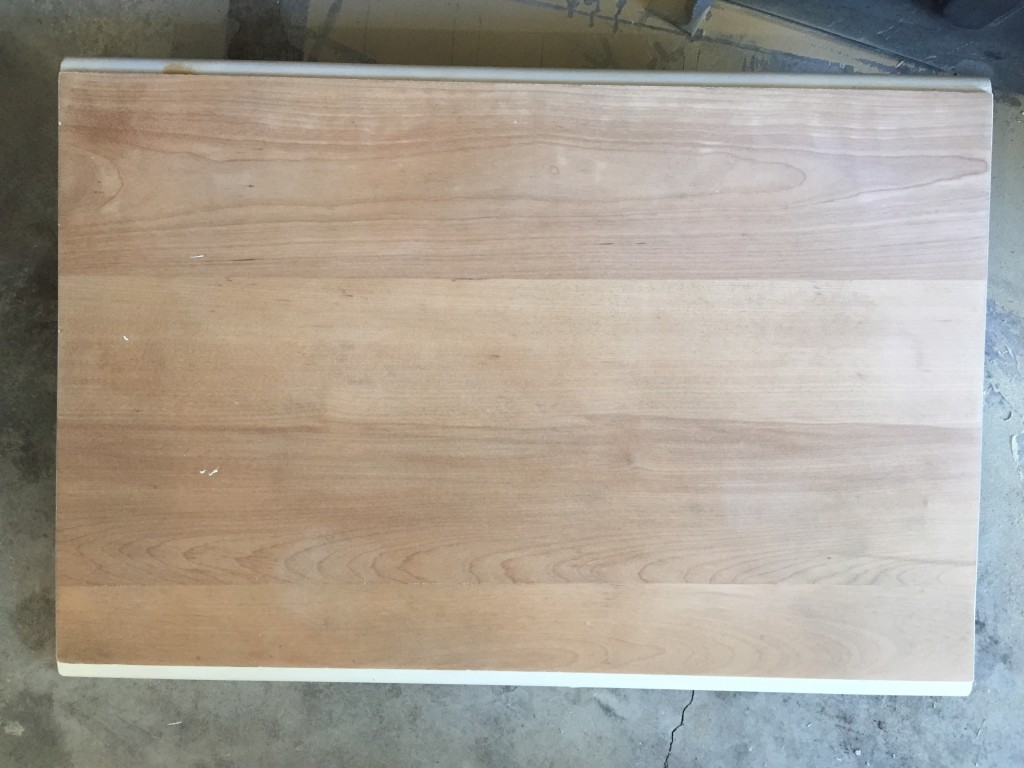 I'd only stained wood once before, years ago, and it had come out very uneven. I knew from doing a little research that it was because certain woods, like the pine I had stained before, soaked up the stain unevenly unless you used pre-stain conditioner. So I conditioned the wood and then stained it with a dark walnut stain, on top and underneath, including the new dowels. It looked somewhat uneven as the stain soaked in for 15 minutes, but as soon as I wiped it off, it looked great.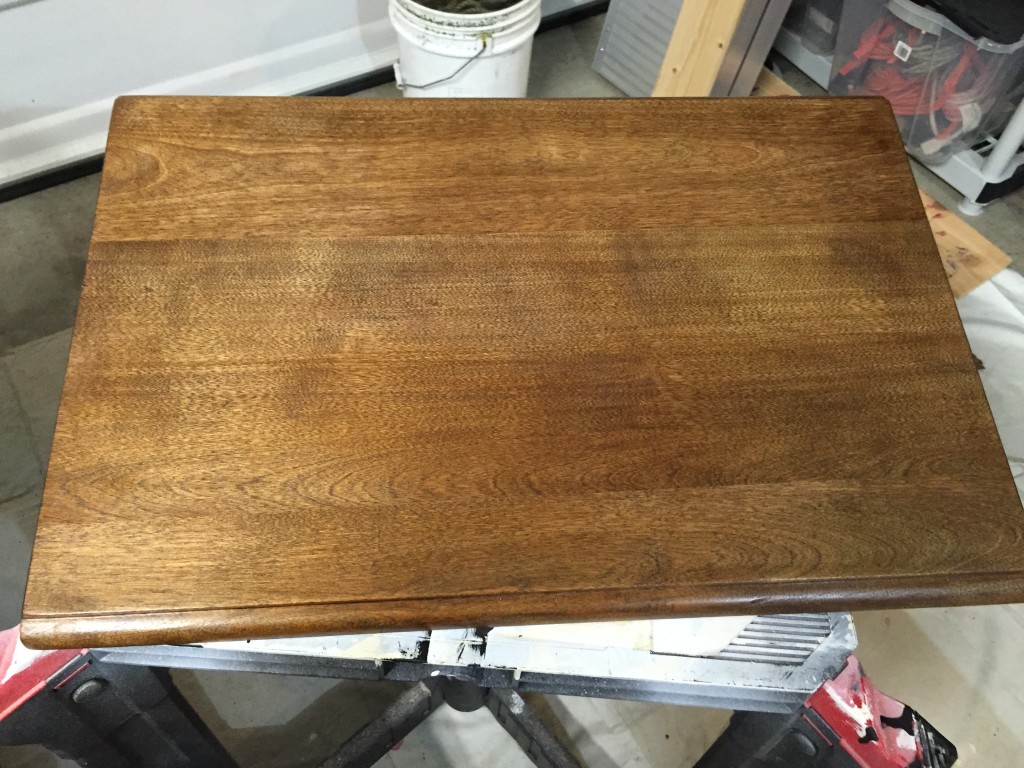 It needed to be a bit darker, so I applied a second coat and let it sit for 15 minutes again, which was just right.
I distressed the legs and coated everything in polycrylic to protect it – just one coat for the legs, but a generous second coat on the table top to protect it.
Then I put it all back together.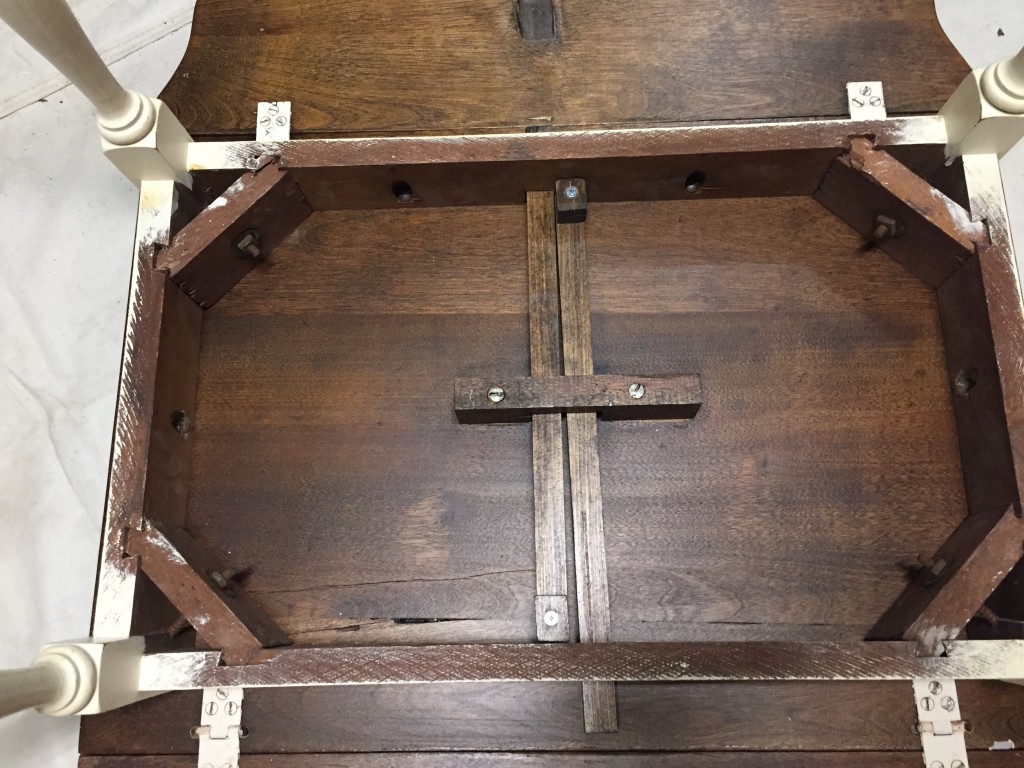 And here's the finished product! I think it has a great farmhouse table feel. Love it!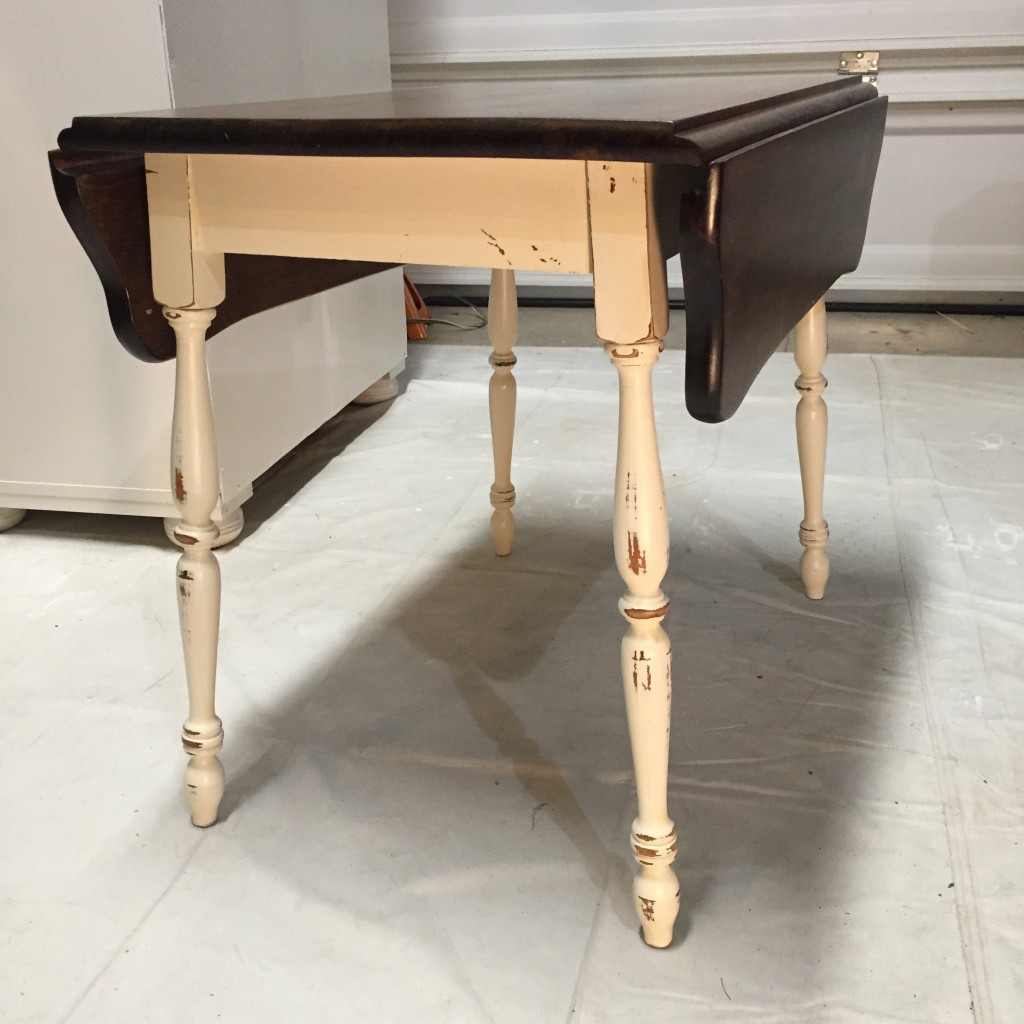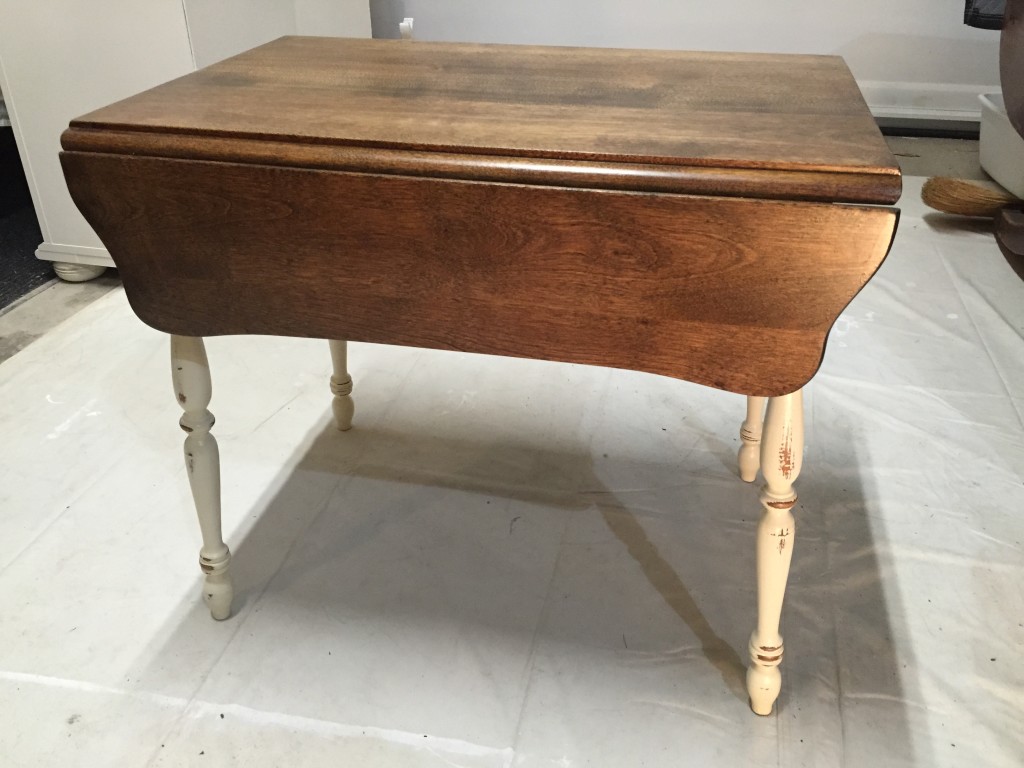 I have another table that's almost the same, except full size instead of a small side table. Think I should paint/refinish it the same? How would you paint/refinish it? Leave me comments…