One thing about jumping into something and teaching yourself along the way is that sometimes you have to learn from your mistakes. Thank god I didn't have to learn from my mistakes on this one!
I've been dabbling in all kinds of furniture activities: painting, stripping varnish and refinishing, restoring shellac finishes, and restoring lacquer finishes. That has left me with dozens of cans of hazardous materials and some rags that I wasn't sure what to do with. So I decided I'd google it to find out what could be washed and what could be thrown out. What I learned was frightening.
One of the forums said to throw pretty much all of the rags out, but a couple of the people responding to that forum post specifically mentioned rags with mineral spirits. It stressed that you should use a minimum of mineral spirits and then lay the rag out to dry, because putting them wet into an enclosed container could cause them to spontaneously combust! Now I didn't take the time to confirm that this was true, because it just so happened that a couple of hours earlier I had used a lot of mineral spirits to wipe down a sewing cabinet that I was restoring to remove oil from the scratch cover I had applied before spraying it with lacquer. And I used paper towels of all things. Why I did that I have no idea, because I usually use rags, but maybe I couldn't find a clean one. Anyway, the idea that the mineral spirit soaked paper towels closed up in the garbage bag in the garage could burst into flames was horrifying! I immediately flashed on all the flammable materials out there and saw images of our garage blowing up like the final showdown in a Hollywood blockbuster!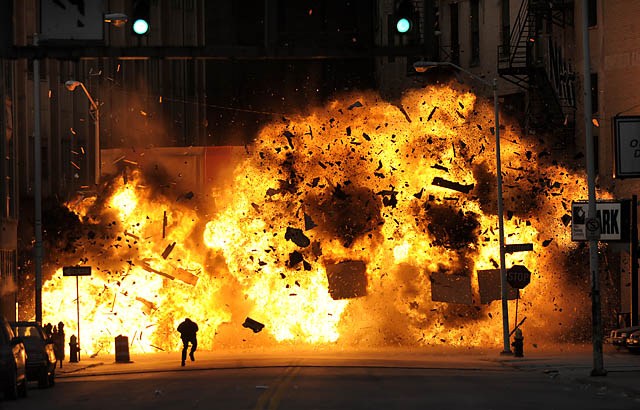 I opened the garage, dragged the garbage can out into the middle of our driveway, and left it open to the rain. Then I left the garage open a while because of the fumes from the quick test coat of lacquer I'd done.
Safety really should have been one of the first things I checked out before each project. Lesson learned. And learned without harm to home and family.
Got your own safety tips? Feel free to post them here! I'll be doing some studying…