---
i found this amazing score at my local Goodwill! A Duncan Phyfe style drop leaf table with 3 additional leaves and 7 chairs with rose carvings for $9.99 for the entire set! I bought them at Goodwill, but I had my 4-door Volvo sedan, so I had to come back for them. I thought I'd have to make two trips, but I actually fit all of this – a table, 3 leaves, and 7 chairs – all into the back of our Dodge Durango!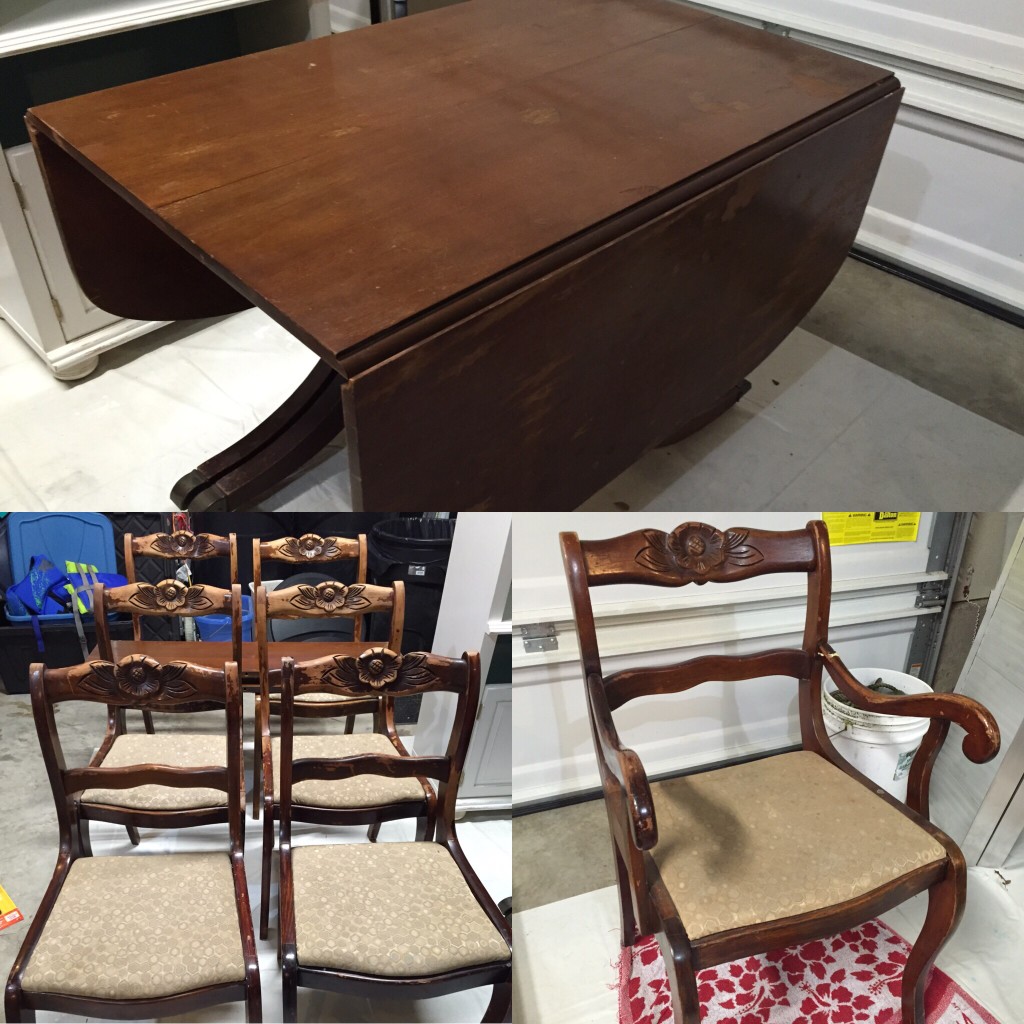 I bought them at Goodwill, but I had my 4-door Volvo sedan, so I had to come back for them. I thought I'd have to make two trips, but I actually fit all of this – a table, 3 leaves, and 7 chairs – all into the back of our Dodge Durango! My husband seemed a little annoyed at first to hear that I'd purchased such a large dining set because there wasn't much room left in the garage, but when he saw the set and heard what I paid for it, he totally got it.
The set sat in the garage for awhile, while I decided what I wanted to do with it. I took a poll of friends and family via facebook as to whether I should paint or restore. I was leaning toward either painting in Annie Sloan chalk paint in Old White for the chairs and the base but refinishing the top in dark walnut, or refinishing the entire set. I got answers back that were about 50/50 including one who said she'd restored a similar one and sold it to a lady who said she was going to take it home and paint it!
I went to the fabric store twice. The first time I was looking for something for restoring the piece, something with a Federal style to it, like these: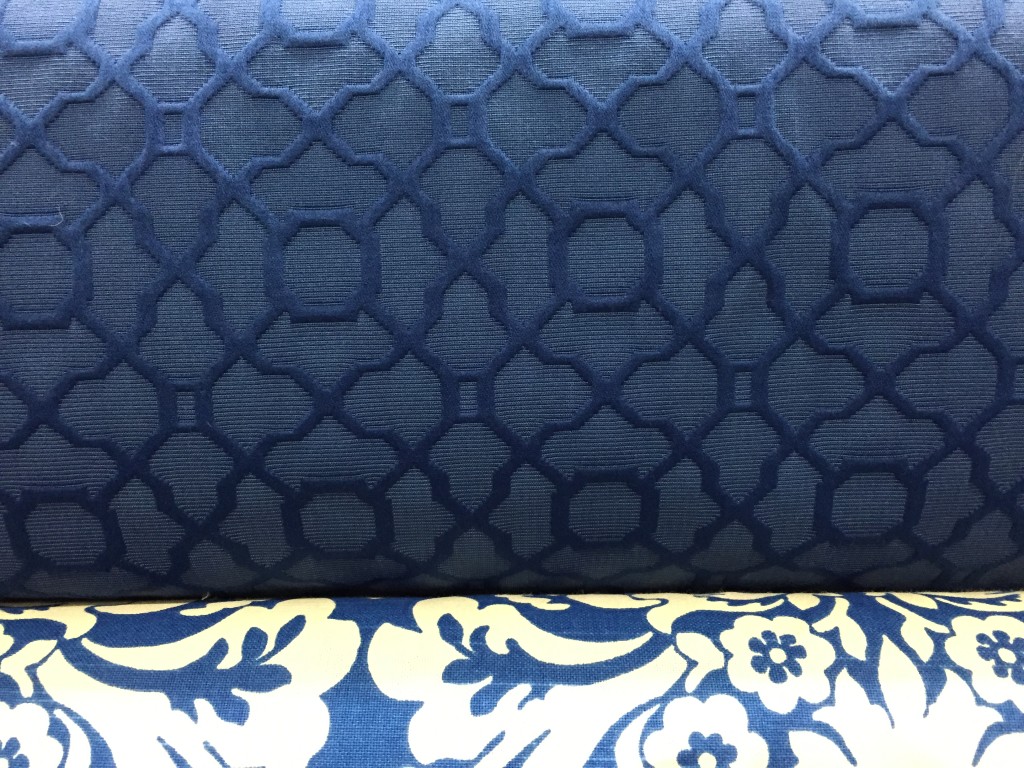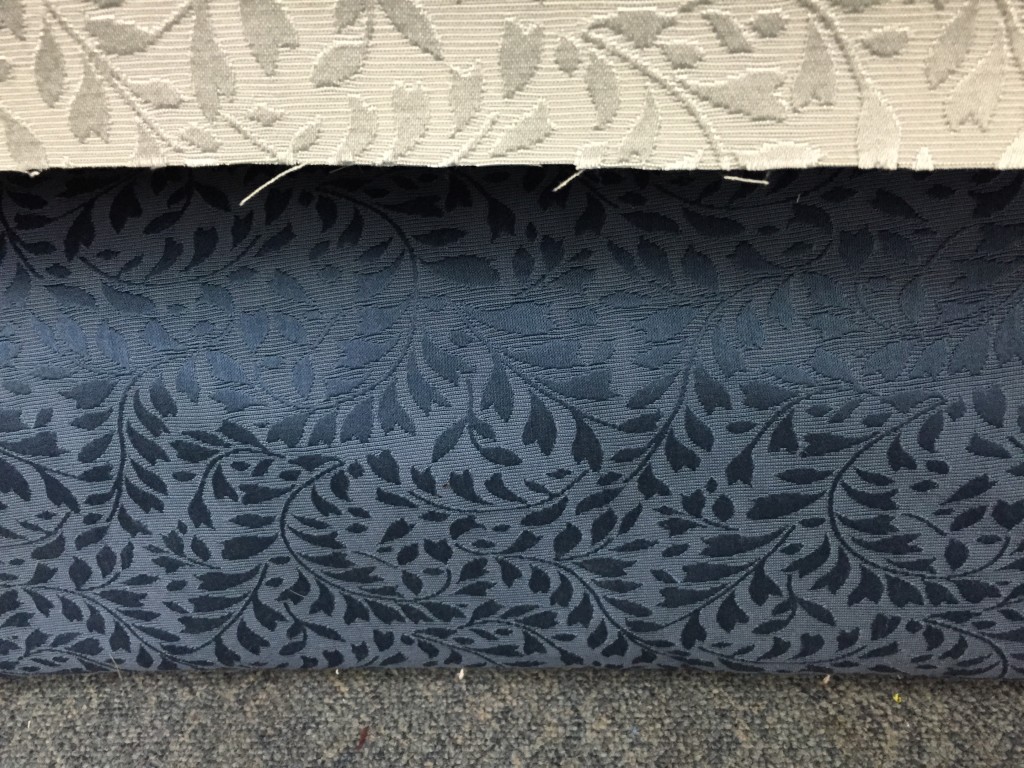 Then I started thinking, maybe I'd paint the chairs, since that seemed a lot easier than stripping and refinishing all the rose carvings. So I went back to the fabric store and started looking at some other options, like maybe a red pattern. Something like one of these…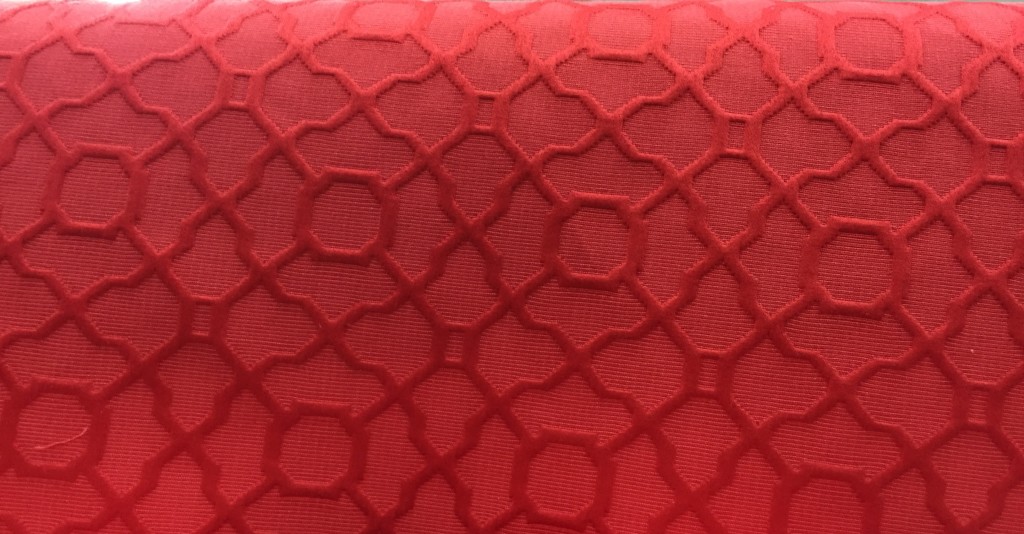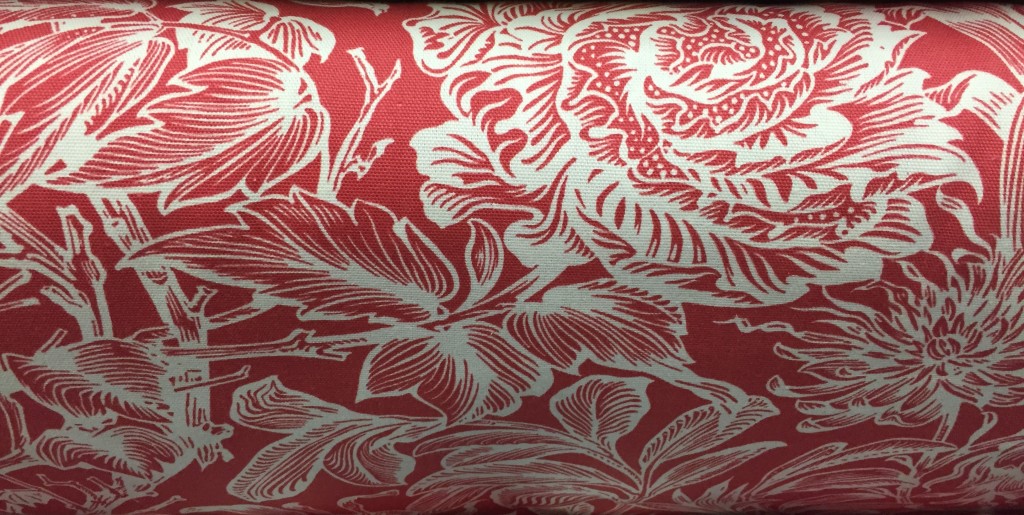 But I also took pictures of some that I just liked, without regard for whatever preconceived idea I had about the look I wanted. After a couple of days, I looked at the fabric pictures I'd taken with a fresh pair of eyes. This one really stood out for me.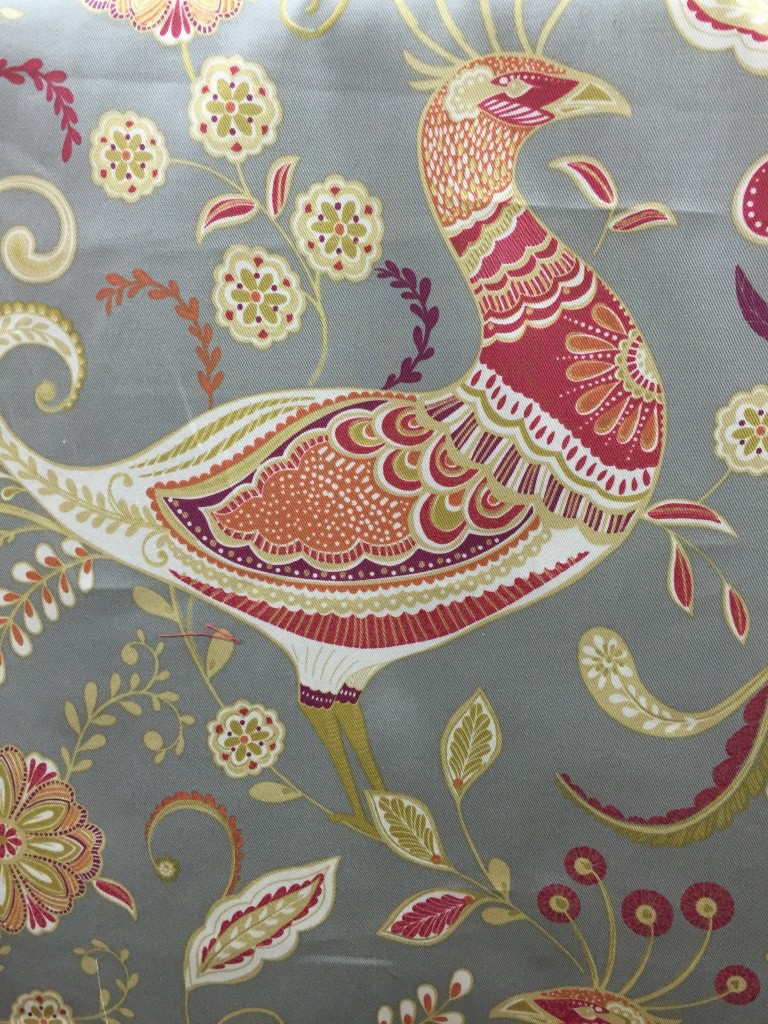 I wondered if it was too unusual, but my friend Brittany, an amazing graphic designer whose opinion I often ask for, said that she loved it and thought it looked very country chic. That was it! Exactly the look I wanted, and I'd end up with a piece that was tasteful but not ordinary. Now I was really excited about the project, and after having the set sit in the garage for a few weeks taking up space, I finally got cracking.
I started with the chairs. I had already removed the seats by unscrewing them from underneath, so the next step was to clean them. I took them outside and wiped them down with mineral spirits.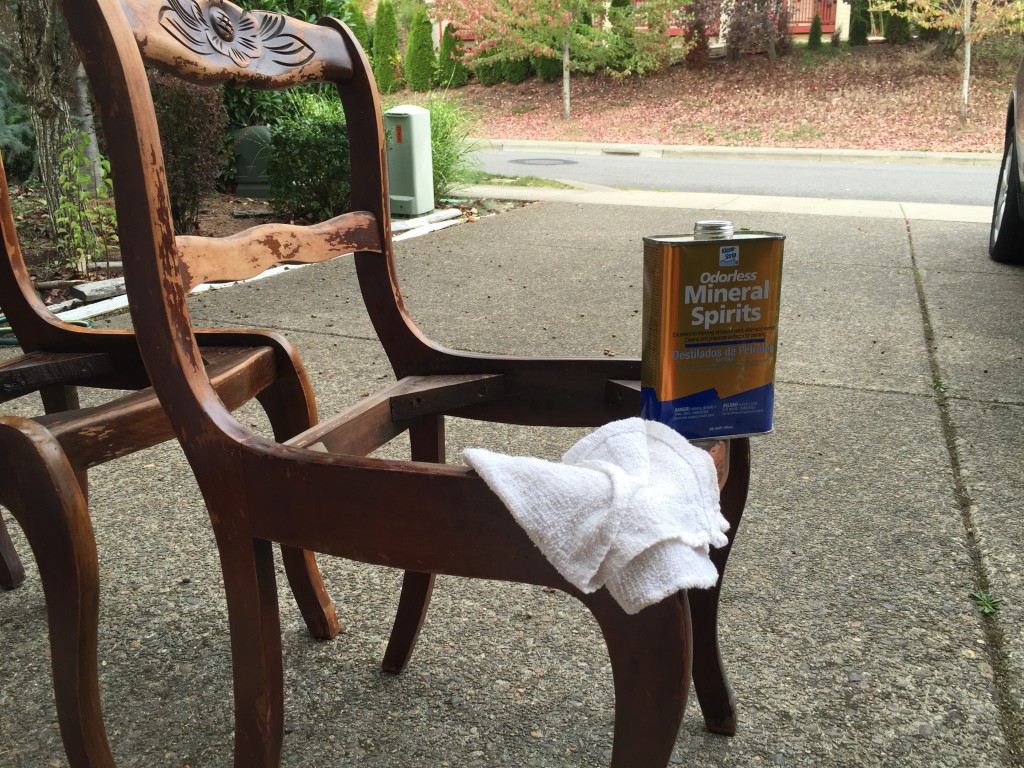 That was the first time I'd used mineral spirits and I learned that they dissolve latex gloves! Whoops…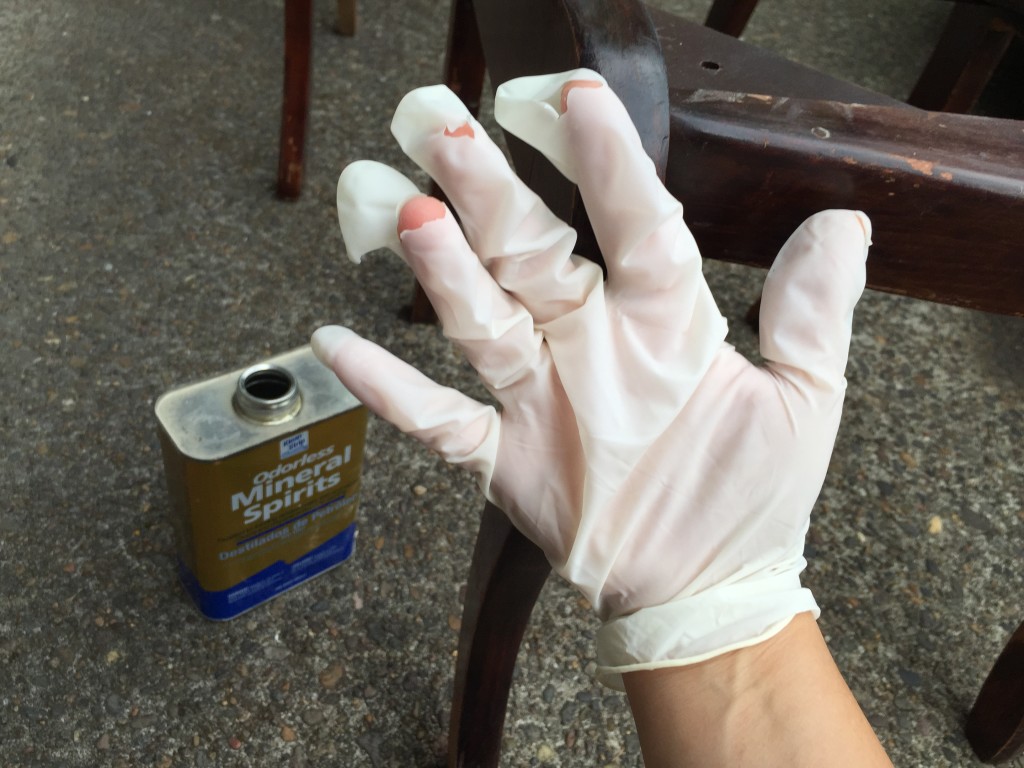 After they were all wiped down, I started painting. But I tend to overthink everything, so I started by painting just one chair. I started with the "father's chair" so that if I did anything that I couldn't undo, I'd still have 6 regular chairs to go with the table and could sell the father's chair as a stand-alone piece.
I painted it with Annie Sloan chalk paint in Old White, not bothering with sanding based on all the claims of the ease of using ASCP, and based on my earlier project using the same paint for the much smaller drop leaf table. After the first coat, I could see that the mahogany stain was seeping through the paint, creating a red color.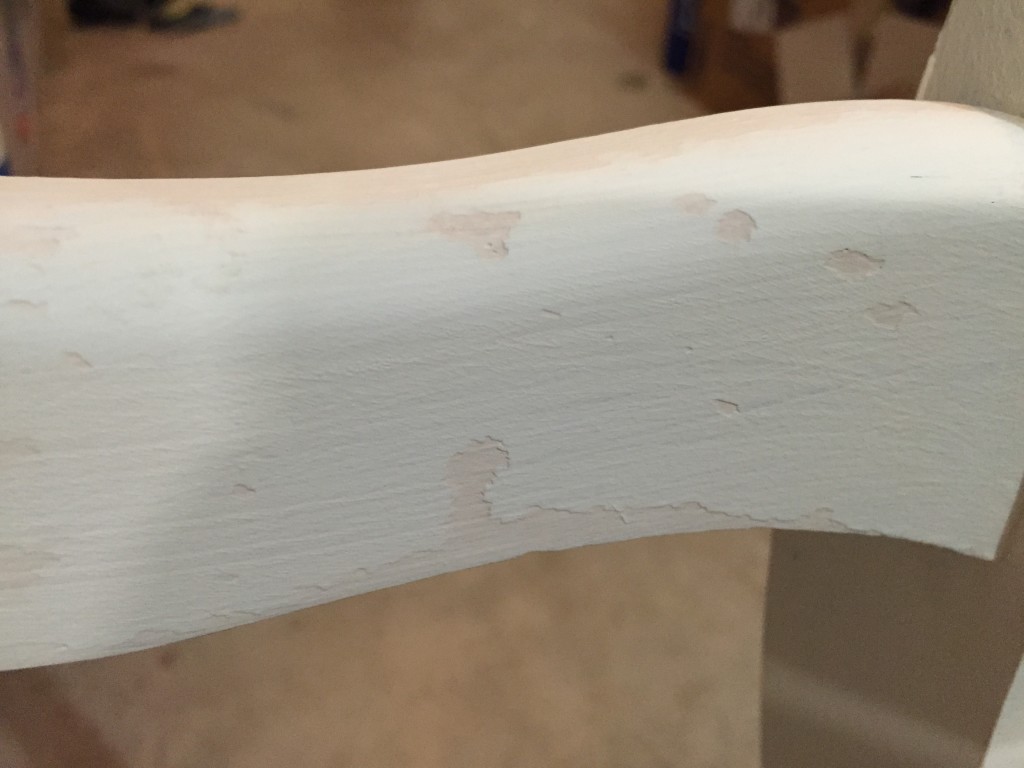 The "correct" thing to do would have been to seal it first, then apply the paint again, but I figured I'd just go with it for now and see where it led me.
I put a second coat on, thicker to see if it would cover the red. After that coat, I didn't see the red anymore, but I saw that the paint was crackling in one place, probably from putting the second coat on so thick.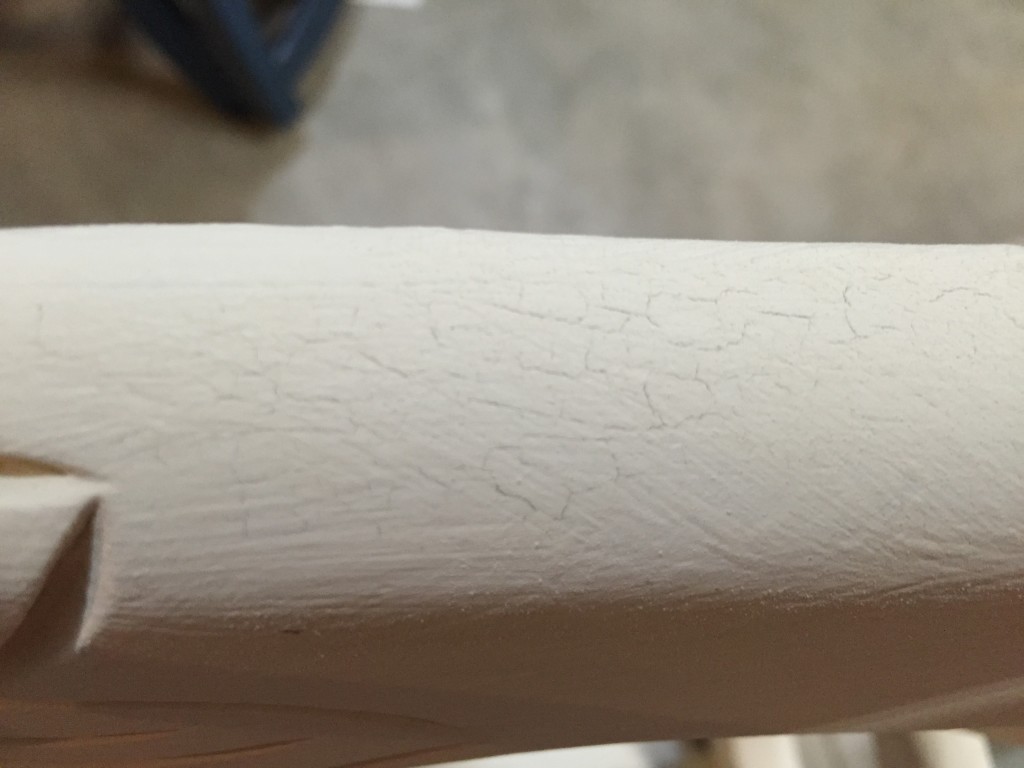 I then sanded it with fine grit sandpaper in the hopes that it would sort of fill in those cracks and that a third (thinner) coat would sort of bond it all together. And it worked!
The next decision was whether to distress or not. I decided to distress because the paint job wasn't entirely flawless, and I didn't want it to be. The distressing would add to the country chic vibe and ensure that it didn't look like it was mass produced in a factory.
So I went about sanding with a medium grit sanding block. I really liked the look, and I was in love with the silky feel of the chalk paint! I kept running my hands all over the chair as I went, making sure that it had that feel everywhere and that I hadn't missed any rough spots. Then I wrapped the fabric around the seat, dropped it in, and took a preview picture of what all the chairs were going to look like.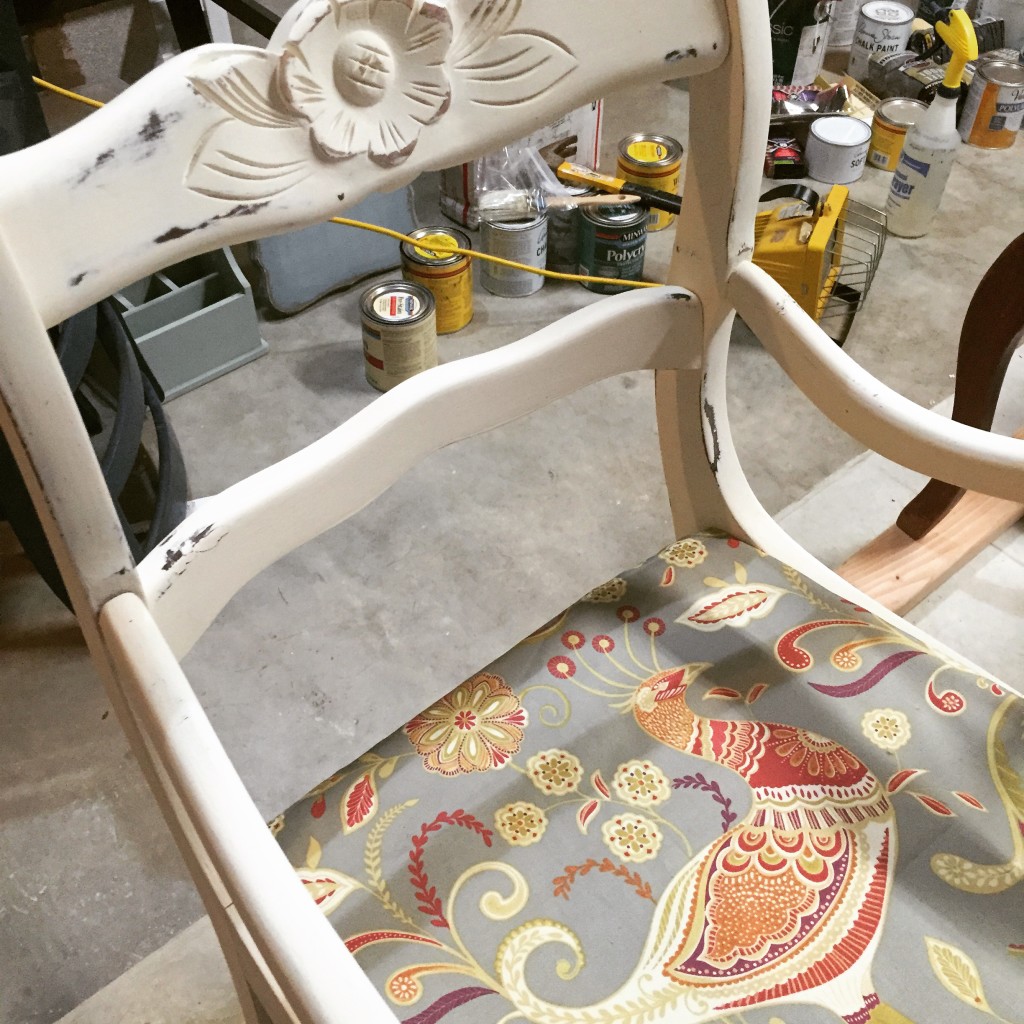 With all that decided, I did the same to all 6 of the side chairs. It was time consuming, especially the sanding – but the sanding was such a zen-like, meditative activity. I kept feeling up the chairs during the entire process to make sure I'd achieved that silky smoothness. I looked like I'd been doused in flour by the end of it. Definitely had to wear a dust mask for this project!
The last step was to seal the chairs. I debated between using polycrylic or wax. Since I wanted them to maintain their aged look and, as much as possible, their silky soft feel, I went with the wax. I used Annie Sloan clear wax and started with her wax brush, but I found that I preferred applying it with a rag because I could feel the coverage better – whether I was putting on too much or too little. I applied until it felt waxy and then spread it until it no longer felt waxy at all. (Actually, in all honesty, I didn't spread it thin enough and had to go back later with a stripping pad to get rid of waxy feeling areas.)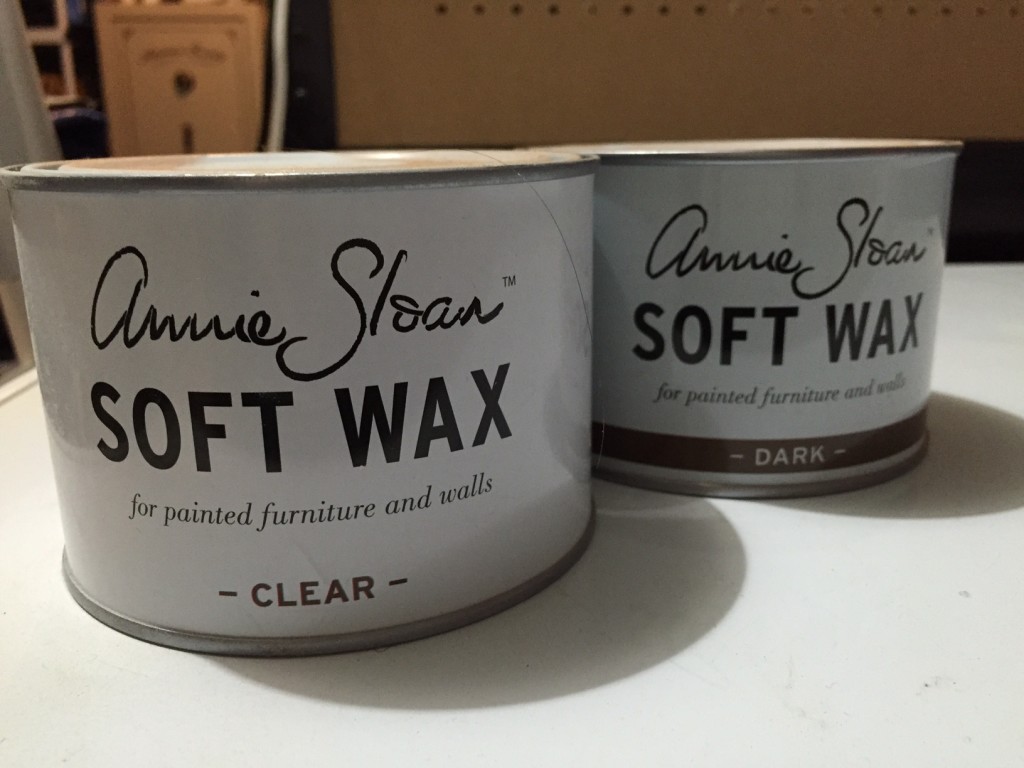 I also tried applying a little dark wax over it, but I immediately used the clear wax to clean the dark wax off. It just looked dirty to me. I think that's just a personal preference thing though. I could've made it as subtle as I wanted by controlling the amount of dark wax by using clear wax to sort of "dilute" it, but I just didn't like the look. I'm sure some others would like the shabbier look that dark wax achieves. What do you think? Leave me feedback in the comments.
Next it was on to reupholstering…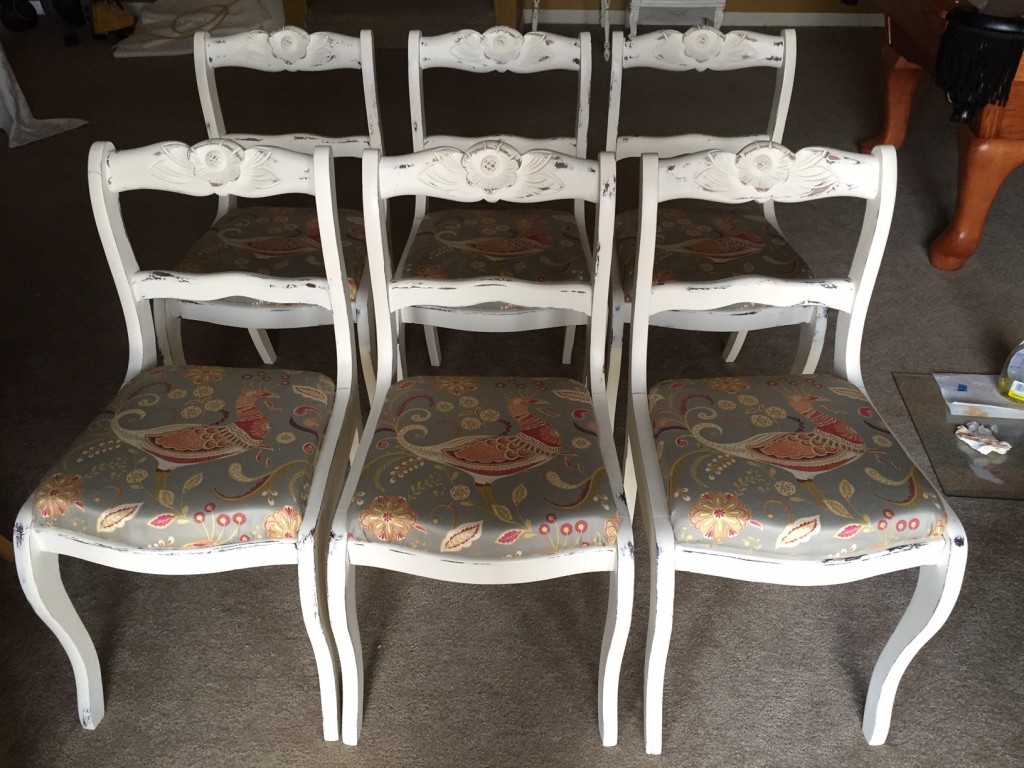 ---